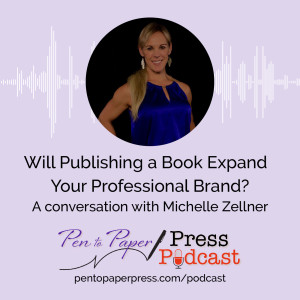 Wednesday Dec 22, 2021
Will Publishing a Book Expand Your Professional Brand?
Michelle Zellner, best-selling author of YOU Revolution: The Journey of a Better Being, is a health and happiness strategist. Michelle sat with Cindy in the Pen to Paper Press Podcast studio to talk about her writing process and new book, PFF is Your BFF Handbook: A Simple Guide to Fueling Your Busy Body. The wisdom Michelle shares will encourage you to take action on your written project and to use your voice. Learn how crafting the content in her books around a lifetime of professional knowledge expanded her business, credibility, and her brand. 
Pour yourself a mug of lemon water and enjoy our information-packed conversation about investing time, energy, and money in publishing our books.
Show notes: pentopaperpress.com/2021/12/will-publishing-a-book-expand-your-professional-brand
Support: patron.podbean.com/pentopaperpress
Shop: pentopaperpress.com/store
Episode sponsor: Pen to Paper Writers Circle
Comments
(0)
To leave or reply to comments, please download free Podbean or