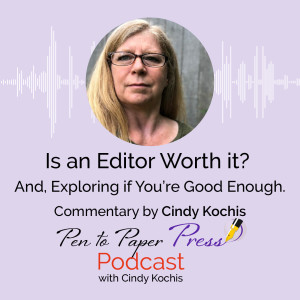 Thursday May 06, 2021
Is an Editor Worth it?
You worked hard to write your book. You had a few friends read it and asked them to critique it. The question is, did they read it like an editor? Will an editor look at the manuscript differently than the beta readers? These are important questions to ask prior to publication.
And before ending the episode, Cindy Kochis, host of Pen to Paper Press Podcast, goes off script and shares insights from a conversation she had with fellow authors. During their time together in the writers circle, she penned in a notebook, "If I work hard enough, I will be good enough." Discover why this statement moved her.
Access show notes: http://pentopaperpress.com/2021/05/is-an-editor-worth-it/
Comments
(0)
To leave or reply to comments, please download free Podbean or